Name: Electric Heating Faucet DR11A-2L033J
No.: DR11A-2L033J
Product details
Rated voltage

220~240V

110V

Rated frequency

50Hz/60Hz

Rated power

2500-3300w

Rated current

10.5A-16A

23 A

Heating system

Bare heating element

Diameter of cable

3×1.5m㎡

3×2.5m㎡

Switch on water flow

80L/h

Usage water flow

80L/h-150 L/h

Max water pressure

0.6Mpa

Fit water pressure

0.04-0.6Mpa

Waterproof grade

IPX4
Application:Suitable for kitchen, bathroom, tube out of the wall; Can be rotated by 360。, replacing the original faucet.
Main feature
A. European style, luxury, ultra-long life.
B. High sensitivity leakage protector, can cut off the bipolar power supply in 0.1 seconds.
C. 3 seconds fast heat, just like the ordinary faucet, easy to operate.
D. Inflow at the bottom, adjustable hot and cold water.
E. Electromechanical integration design, like the faucet but also the water heater.
Functional characteristics
High efficiency and energy saving, 3 seconds to be heating, simple installation, safe and durable.
Instant heating, changes in temperature at will
Turn on the faucet switch, hot water will come out in 2~3 seconds.mix cold and hot water by handle.
Saving electric & water ,cut down expenses
Instant water heating, full automatic control, no preheating, no wait, no waste, use hot water for one minute, only need 1 cent electric charge, economical and saving.
Prevent dry heating, adjustable water temperature
Ceramic water pressure switch design and unique overheating protection device, to ensure that no electrify when there is no water flow, to prevent dry heating accidents.
Easy for installation, easy to use
Convenient installation, replacing the original faucet ,in cold season, adjust the switch, there come out the hot water. In other seasons, adjust the switch to cold water, can be used as the traditional faucets.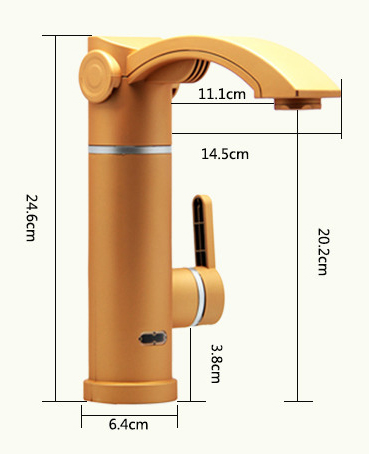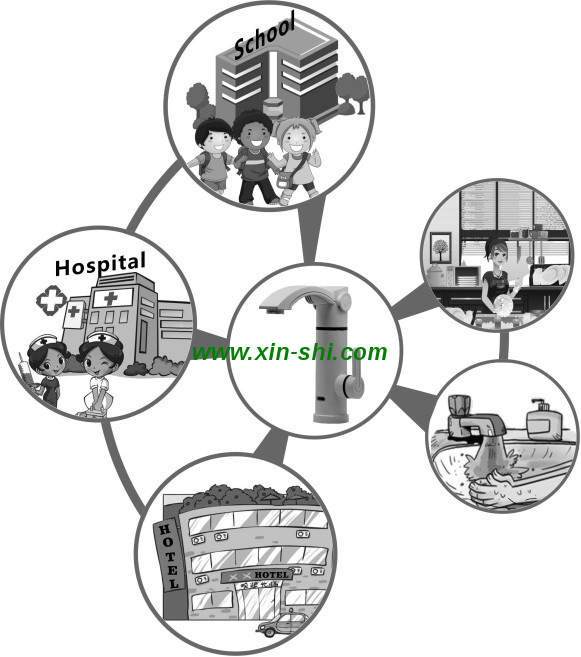 There are a variety of vibrant colors for your choose:
Luxury gold with silver edge
Porcelain white with red edge
Blue with silver edge
Black gold
Grey green

Silver with golden edge
Champagne gold with silver edge
Bordeaux red with silver edge